3 Simple Ways to Combat the Long Pharmacy Wait Times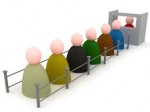 What do you do in your pharmacy to keep the wait time down?
While working at different IHS pharmacies, I've noticed a range of wait times and patience levels of patients.
I've worked at IHS/tribal pharmacies where the provider would instruct the patient to go to the pharmacy and their medications would be ready. Then the patient shows up and is disappointed that the wait time quoted by pharmacy staff is significantly longer.  I've also worked at sites where patients have a lot of patience –they're used to waiting a long time for their prescriptions.  The pharmacists do their best to fill the prescriptions as soon as possible, and patients seem very understanding.
What can you do when you can't help the long wait time because of staffing constraints? Increase patient satisfaction in one of these 3 simple ways:

1. One way is give assurance that the pharmacy is working on their Rxs as quickly as possible. Instead of just having your staff tell people that the wait can be 1 hr long, for example, let them know "we are working on your prescriptions as quickly as we can.  Although there is a bit of a line right now, when we receive it, we'll start working on it right away."
2. Something else your staff can do is let people know how the process works & invite them to come back later. For example, "the way it works is that the Dr. enters the prescription in after seeing you, then as soon as pharmacy receives the Rx, we process it.  It may take 15 min after your visit before we receive the prescription to start working on it.  Feel free to eat lunch & come back to pick up your Rxs."
3.

A 3rd way to improve patient satisfaction is to help patients understand why it takes time to fill their prescriptions appropriately. It's amazing how much we take for granted that we think people know what pharmacists do.  Just try asking your next few patients whether they know what pharmacy does, and chances are that they will tell you we count pills.
One thing you can do is hand out a sheet of paper answering FAQs about the pharmacy & expectations while patients are either waiting to see their physicians or waiting to receive their prescriptions.

What is one thing you will start implementing to improve patient satisfaction and decrease wait time for patients? Comment below and commit to the postive change.