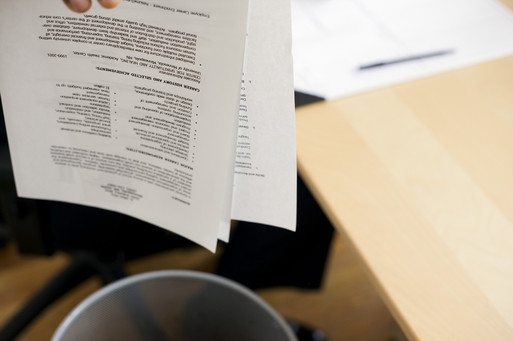 Tired of not hearing back from jobs you applied for? Many pharmacists struggle with sending resume after resume, and don't get called in for interviews. Or maybe they get interviews, but not for the jobs they really want.
If that's you, you're not alone. So why is it that even though you are qualified, you don't get asked in for interviews? One main reason is because your resume doesn't pass the 10-second test. With 10, 40, or 100+ applicants, does your resume measure up to your competition?
As a pharmacist and pharmacist job market expert who has reviewed thousands of resumes, I've learned a thing or two about getting resumes to the top of the pile. I've gotten pharmacists jobs in tough job markets, teaching them what I know over and over again. And now I've got it down to a science!
Learn the inside secrets to getting your resume to the top of the pile. Enter your name & email below to get VIP access to the FREE teleseminar (Limited Spots Available).
Stop getting overlooked
because your resume is getting tossed.
Gain control back...
Learn my secrets that will put you in the top 10%
of all applicants out there.
For the FIRST TIME EVER I'm going to teach you MY secrets for creating a kick-ass resume that gets noticed in a FREE teleclass:
"5 Simple Secrets: How to Write a Kick Ass Resume
that Stops YOU From Getting Tossed"
On this ground-breaking call exclusive for pharmacists, you'll learn:
<![if !supportLists]> 1) <![endif]>The #1 thing you need to change about how you're writing your resumes, if you care to get noticed (not knowing this can cost you many interviews)
<![if !supportLists]> 2)<![endif]> What will make a hiring manager toss your resume aside (what not to include, from my observations of thousands of resumes & what gets noticed & what doesn't)
<![if !supportLists]> 3) <![endif]>How to leave a hiring manager wanting more & inviting you for an interview
<![if !supportLists]> 4) <![endif]>Cover letter or no cover letter? CV or resume? (How to write something that gets them to stop at your resume, and not go further in their pile)
<![if !supportLists]> 5) <![endif]>Insider information to standing out with online applications
BONUS: The most critical mindset shift you need to make before attempting to send out another resume. Don't even bother with all the strategies I'm about to teach you if you're not willing to do this!
Enter your name & email below to get VIP access to the FREE teleseminar.
This call is for You if...
| | |
| --- | --- |
| | you are tired of not hearing back when you apply for jobs |
| | you are looking for a way to get your foot in the door |
| | you know how important a resume is, but you aren't sure how your resume compares to your competition |
| | you are done wondering & waiting to get interviews, and are ready to TAKE ACTION! |
Just enter in your first name and email address to get VIP access to this FREE teleseminar.

Can't make the call? You'll get access to the recording only if you register.











Meet Chen Yen, PharmD

Chen Yen, PharmD, Pharmacist Job Market Expert is a sought after expert who founded Pharmacist Job Connection. She is well-known for encouraging pharmacists to pursue their ideal jobs and lives, and not to settle for less. Chen places top-notch pharmacists with pharmacies quickly and with attention to what is important to them.

Chen's teachings resonate with pharmacists because it is authentic and carves a unique niche within the network of pharmacists who follow her work. Most recruiters are not trained as pharmacists, nor are they offering to help pharmacists develop professionally and personally. Chen set out to create an important service that helps pharmacists find the right job for their personality and strengths, in both temporary and full-time pharmacist positions throughout the country.

Pharmacists come to her for career advice, workplace, and management strategies. Her dream is that all pharmacists work in an enjoyable work environment that values their talent. Chen is optimistic that every pharmacist can find a job that's the most suitable for his/her personality & talents. She wants every pharmacist to experience joy in their work & life.