Pharmacists
Helping Busy Pharmacists Find the Right Job for their Personality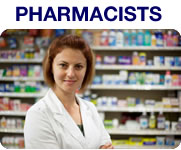 Tired of working with recruiters who don't really get that there is a difference in skill sets between being an infectious disease pharmacist & a general clinical pharmacist?
We speak your language.
If you are adaptable, quick-thinking, and know that the right job is out there for you, we want to help you with their next career move. We want you to be in the position that is right for your personality.
We have the inside scoop & often hear about job opportunities before you do. We take extra care in finding what you're looking for, and provide you with the right job, or give you direction to get you closer to where you want to be.
Click on Current Job Opportunities to access some of our current open positions. We do not advertise every position.  Read more to find out how you can get free access to unadvertised jobs.
If You Have Experience
If you have experience, a positive attitude, and strong knowledge in the type of position you are interested in, we will select a top recruiter to represent you in your job search.
If You Are A Recent Grad
If you are a recent grad, we are one of the few companies that can help you land the right job through our expertise.
Free Strategy Session
Call our office at (206) 219-3630 to find the job you want in this changing market. In the meantime, use the resources on our website to get you closer to the job you want.
Unadvertised Jobs
We do not advertise every position (some searches are confidential), so call (206) 219-3630 for your individual needs. Request FREE Access to Unadvertised Jobs.